TOP15 FAQ for Silicone Valves
TOP15 FAQ for Silicone Valves
1. What is silicone valve?
Silicone valve is a kind of elastic valve, made of silicone material, mainly processed by LSR injection molding, is designed to better control the flow of fluid under preset pressure and vacuum.
2. What types of silicone valves are there?
Types of silicone valves include silicone check valve, silicone duckbill valve, silicone umbrella valve, silicone flapper valve, silicone cross slit valve, silicone dome valve, silicone vent and relief valve, silicone dispensing valve and other flow control valves.
3. What's the application of silicone valves?
Silicone valves can be used in various applications, such as, Food& Beverage dispensing closure, medical device, automotive, home appliance and so on.
4. What's the function of silicone valves?
Silicone valves are designed to open and close at a certain pressure, typically, for dispensing liquids, powders or gases.
5. What materials available for silicone valves?
Due to the different applications, the raw materials can be divided into food grade silicone, medical grade silicone, Fluorosilicone (FVMQ) and rubber.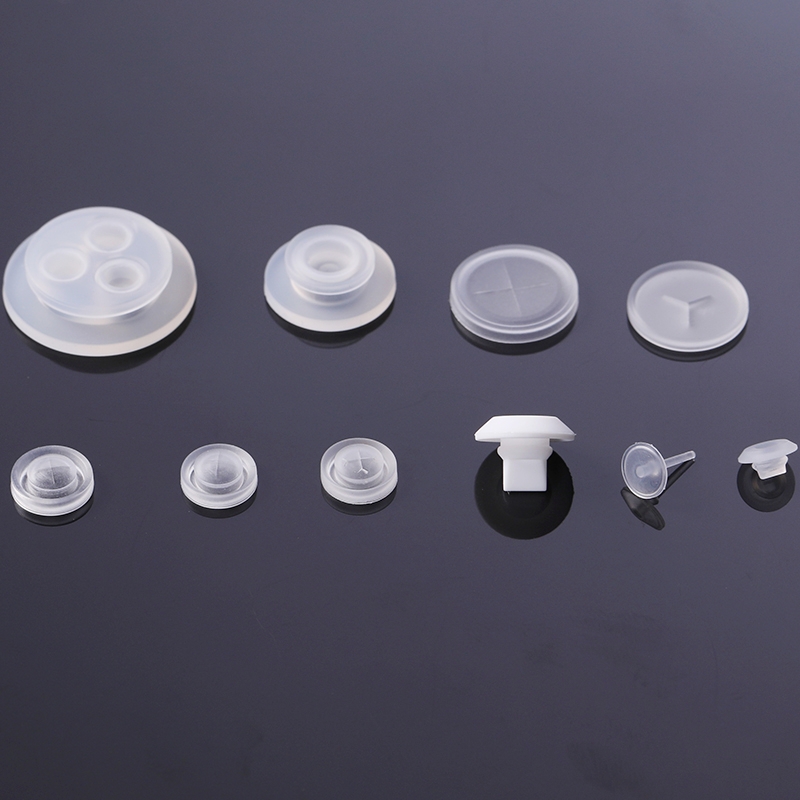 6. What are the advantages of silicone materials?
Silicone rubber is perfect for weathering, ageing, chemical, temperature and UV resistant products, with excellent elasticity, great tear and tensile strength, silicone is the ideal material for flow control valves.
7. How is the silicone valve assembled?
The silicone valve can be assembled directly with dispensing closure or combined with plastic valve seat, then fixed into the dispensing closure.
8. What slit cut options are available for silicone valves?
At present, we have produced various slit cuts, such as cross slit, snowflake, I shape, Y shape, highly welcome custom slit cuts.
9. What hardness are available for silicone valves?
Silicone hardness range from 5 to 80 Shore, and we usually recommend to choose 30, 40 or 50 Shore A.
10. What are the advantages of producing silicone valves in your company?
From mould design and making, prototyping, mass production mold manufacturing, liquid injection molding, plastic injection molding, quality control and customer support, all processes are handled in-house. With completed quality management systems, such as, ISO9001, ISO14001, ISO13485, IATF16949, ERP and MES, our flexible production lines are able to meet the needs of our customers for both large and small orders.
If the mould tolerances are the same and the same material is chosen, there is no difference in the molded silicone valve. Comparing production capacities, for high demands, suggest to choose liquid injection molding, while for low demands, suggest to start with compression molding.
12. How can I customize my silicone valve?
3D drawings or actual samples are required for customized silicone valves. If possible, please also advise how the silicone valve will be used, the opening and closing pressures. If required, a confidentiality agreement can be signed.
13. What's the lead time for customized silicone valves.
For samples, the lead time is 7-10 days, for mass production, the lead time varies from 15 to 35 days, depending on specific quantities.
14. How is the silicone valve tested?
For silicone cross slit valves, we will do leak-proof and dispensing angle tests. For qualified cross slit valves, there is no drip after 7 days and 24 hours of inverted leak-proof testing and the dispensing angle needs to be controlled within ±15 degrees.
15. What is the production process for silicone valves?
With regard to the cross slit silicone valves, the production process is as follows:
Liquid injection molding - Inspection - Secondary Vulcanization - Cross Slit Punching - Inspection - Shape Punching - Inspection - Packaging.
Sorry, there's no more comment.
Related Articles